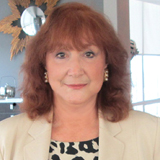 Designer Barbara Bell has been designing high-end residential and commercial interiors, historical properties, and model rooms throughout the tri-state area, including Westchester and New York City, for two decades. Her full-service interior design firm offers end-to-end services, including space planning, lighting, bath and kitchen design, construction oversight, furniture, and cabinetry design, as well as design consultation.
Her signature brand of interiors has always emphasized comfort, functionality, and beauty as equally important to the equation of good design. She believes in helping each person achieve their own "dream home," one that expresses their unique vision, lifestyle, and needs.
Over the past decade, she has designed many penthouses, including properties at such iconic New York City buildings as The Mondrian and Trump Palace, and throughout the East Side and West Side of Manhattan. In the process, she has become deeply involved in all aspects of construction, as well as furnishing in the contemporary vernacular.
Demonstrating that a professional designer must be fluent in all periods and types of design, Bell also served as the exclusive interior design firm for the Reader's Digest Corporation, providing design services for all their executive offices, boardrooms, special projects, and corporate guesthouses nationwide from 1987 to 1997.
She also worked closely with their Art Curator to integrate the company's world-famous art collection and antique furnishings into redesigned interiors. As a result, she is adept at combining contemporary interiors with antique elements and the acquisition and display of art for all types of design.
Bell served as an adjunct professor of Interior Design at Pace University for five years, specializing in Color Theory and Interior Design History. One of the more interesting aspects of her practice has been the design of several public libraries in New York and New Jersey, with a particular emphasis on Children's Rooms.
Barbara Bell Interiors has participated in four major showhouses including the Cerebral Palsy Showhouse in 2009 and 2011, the ASID Scarsdale showhouse at the Scarsdale Women's Club Rowsley Estate in 2005 and the Heritage Hills Showhouse in Briarcliff Manor.